Welcome to the demonstration and system test area.
This area shows an implementation of the TopShopper II shopping cart for demonstration purposes.
There are two areas to explore.
The shopping cart as the shopper sees it (The Shop)
The Administration Area for the web designer and merchant.
The Shop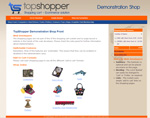 There are notes on each shopping page to point out some of the features of the shopping cart system.
Please be assured that none of the items within the demonstration and test area are for sale, neither will you be charged for any purchases you make. You can therefore put the system through its paces without limitation.
The normal e-mails for sale confirmation and credit card payments have been disabled on this demonstration. You can use a valid email address because your email address will NOT be logged.
Please try promotion codes 'Gold' and 'Silver' to test discount system.
Enter Shop Demonstration (Opens in a new window)
The Administration Pages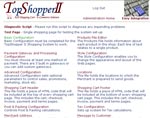 This is a demonstration of the simple set-up and administration interface. Remember that the shopping cart can be customised to meet your requirements in terms of font colour, font size, background colour, navigation images , postage, VAT, sales and promotion codes.
Once installed, Topshopper II can be administered through the web in terms of changes of price, VAT and postal costs, stock, etc. The merchant can also send notices of special offers to the shoppers in the confirmation e-mails that are sent out.
Please note: All updating of the shop configuration has been disabled. This is sometimes shown by the abbreviation (dis.)
Enter Administration Demonstration (Opens in a new window)